3 Tips for Keeping Costs Low When Transitioning Into Your Second Season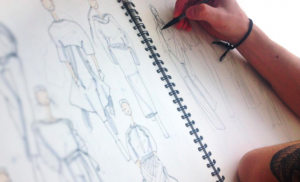 When you've just finished off deliveries and payments from your first season, looking ahead at the next season can feel like approaching a tsunami when you have little more than a lifeboat.   Especially when you had to invest so much timing and funds in season one to get the ship afloat, the thought of having to go through all that again right away can feel daunting to say the least.
The good news is that you don't have to!  Unless you are a larger brand or have endless cash flow, you probably don't have the resources to start from scratch designing and sourcing for a whole new concept, at least not right away.  However, if you play your production cards right, you can still come out from your second season looking as if you did.  Here are 3 tips to show you how:
Development: Remember all those weeks and $$ you spent fitting your styles with your patternmaker, going through several fit corrections to get the fit just right?  Well now it's time to really put those patterns to work.  If you already have workable bodies, the easiest thing to do is to re-cut them in more seasonably appropriate fabrics—have a dress that blew off the shelves in Fall?  Re-cut it in a cotton voile or lightweight silk for the Spring.  Have a winter top that got rave reviews?  Keep the same body but shorten the sleeves or lower the neckline for Summer.  By keeping the same body and making only slight adjustments, you can skip the money pit of development and spend only a slight cost on pattern adjustments.
Fabrics: Perhaps you have lots of fabrics left over from your previous season due to order minimums.  If you're looking to keep things fresh for season 2, consider creating combo markers for styles that used to be only solid (or vice versa), screenprinting over garments, or even garment dying whole garments for a completely different look and color story.  Or, simply re-cut the items in the same fabrics that were selling well!
Production: Now that your manufacturer is familiar with your quality level expectations and feel and make of your garments, it will be easier for them to complete your second run of production.  However, the more time you are able to give for deliveries, the better your cost and quality will be, as the factory won't be rushed.  Also, they will be more inclined to take on a smaller order for decent cost if there is timing flexibility on delivery dates.