What Is The Difference Between Ready-To-Wear And Haute Couture?
By Anya Ferring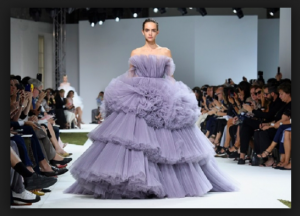 The most misused and abused words in the world of fashion are 'Prêt-à-Porter' and 'Haute Couture'.
While these terms are casually thrown around by even the most seasoned designers, there are indeed very specific meanings to the two.
Ready-to-wear (or Prêt-à-Porter) are basically shows that you see on the runway where the fashions may not always seem as wearable as most of the clothing you may see in a mall, yet feels more realistic than a haute couture piece. Most ready-to-wear lines are designed by a designer, crafted by a team of tailors and seamstresses, and produced all over the world from Asia to Italy. 'Haute Couture' however, is generally used to deem anything "high fashion," as Haute Couture means 'high sewing' or "high dressmaking."
From a production point of view, the differences between the two are mostly about the numbers:
Haute Couture:
Vogue once described Couture pieces as 'walking pieces of art'. Indeed this is true. Haute Couture pieces are designed to be worn by a few clients, if not only one.  Every Haute Couture piece is made to measure for a single client. The client comes to the Parisian atelier for measurements and fittings. Haute Couture fashion is deemed highest quality and highest price, due to the cost of materials and the fact that there is no economy in numbers of bulk production that you find in ready-to-wear pieces. Regardless of how exclusive a piece is, it is not Haute Couture until the Chambre Syndicale de la Haute Couture crowns it so. Upon the Chambre Syndicale de la Haute Couture's approval, a fashion house is considered Haute Couture by French law. This is no easy feat, as there are strict criteria a fashion house must meet to even be considered. For example, a fashion house must have a workshop in Paris that employs at least fifteen full-time staff members and the fashion house must design made-to-order pieces for clients with at least one fitting. These standards ensure that Haute Couture labels deliver impeccably tailored pieces that will be an exact and perfect fit for the client. Understandably, there are only fifteen Haute Couture studios in Paris today, including Chanel and Dior.
Prêt-à-Porter, or Ready-to-Wear:
Prêt-à-Porter is high quality, factory made fashion. While Prêt-à-Porter is not necessarily mass produced, it is available to a wide variety of customers. These collections are made for many customers in different sizes. While they range in price and quality, the overarching characteristic is that these collections are designed within the bounds of standardized sizing. These pieces are not meant to fit perfectly or require a tailor. They simply fit the majority of people fairly well.
When most people see haute couture they are confused as to where a person could wear such incredible fashions. They are often an exact interpretation of what the designer is inspired by and therefore, at times, more exaggerated forms of fashion. A Versace ready-to-wear dress may have metallic gold leather inserts whereas the couture line will have mirrored gold metal inserts. The materials used in couture are always more opulent and extraordinary such as gems, pearls, gold fibers, and the most luxurious wools and silks. The average time spent on a couture dress is around 300 hours and costs upwards of $90,000 where as a ready-to-wear is between 50 and 100 hours and significantly less expensive.
For this reason it is common knowledge that couture houses see a higher return on their investment with their ready-to-wear lines than their couture collections (and sometimes these collections even take a loss), due to the nature of their respective production costs. However couture lines generally get more exposure across the world and thus are an excellent way of exposing a particular designer to the fashion market. If someone loves a couture dress but can't afford the extravagant price tag, they can step into the ready-to-wear version of the brand and buy a piece of the artistic vision for a fraction of the price.