Professional Fit Models: To Use, Or Not To Use?
By Anya Ferring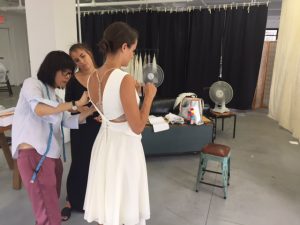 $200/hour, no way! I will just be my own fit model, or use (insert random friend/family member/etc) they are also the right size…..
Firstly, to understand the value of a fit model it's important to understand the difference between a fit model and an editorial (or runway) model. Editorial models are used for photoshoots, in magazine spreads, or advertising campaigns. Often times editorial models often have experience walking the runway as well, and thus can display a brand's looks in realtime as well—the point being, that editorial models make a brand's clothing look good and transmit an image that is synonymous with the brand vision.
Whereas the job of a fit model, as their name would suggest, is to ensure that the clothing fits well. Therefore, they are required to have the ability to give valuable feedback regarding the fit and feel of the garment, fabrication etc. A great fit model should understand what a garment should fit and feel like and recognize when parts of it don't (short rise, tight armholes, limited ease, functionality of pockets/zippers/etc). Even if they have no patternmaking experience, a great fit model will be able to give valuable feedback due to years of experience and knowledge of the industry. Whereas using your friend or business partner who is perfect size 6 might not know or understand how to give this feedback.
Another importance of fit models is providing consistency to a brand. If all the styles in a brand are fit on the same fit model and using the same base size, there will be a consistency in fit and feel throughout the line that wouldn't exist otherwise.
When taking all these points into consideration it is easy to justify the hourly expense of a fit model over the longterm payoff of a loyal customer base who becomes accustomed to and seeks out a brand's particular and consistent fit.