Are Trade Shows Relevant Anymore? It Depends…
By Anya Ferring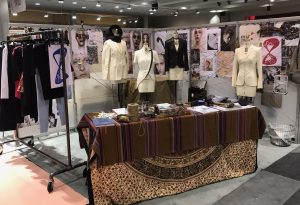 Historically, trade shows were first created to gather buyers and sellers in one place, and although that core objective remains the same, trade shows today also offer opportunities beyond buying and selling.
In what can be described as a complicated interplay between brand and buyer, trade shows present a powerful platform to meet new customers, while helping to foster existing ones. However, in today's e-comm and direct-to-consumer market are attending trade shows still a necessary component to achieving success in the apparel industry?
As with most options in life, it depends. For established luxury labels, the hype and hoopla of the runway is more often than not the ideal medium in which to be seen and brand your collection. Small to midsize brands working their way up the ladder, however, may find the intimacy of trade gatherings more beneficial in trying to reach new potential buyers.
Additionally, most trade shows nowadays provide opportunities for attendees to gain industry specific education, networking and even a little fun – with many trade shows hosting concerts, happy hours and other social experiences. Below are some of the main reasons to attend:
Networking and Exposure:
While the exposure can help the business in reaching out to a whole new client base, building new connections may further broaden business prospects. Attending trade shows allows designers and clothing producers to save time and energy in arranging separate meetings with different clients and enables them to recognize their strategic positioning in the industry. It also gives new brands a name on the map, so to speak.
Seeing What's New In The Industry:
You can see the latest textile trends, garment manufacturing innovations, and even scope out your competitors, all under one roof. This can be highly advantageous to your business as it will give you a better idea of what your product will be competing against, how effective your promotional campaigns need to be, or the strategies that can earn you a competitive advantage in the industry.
Inspiration:
Likewise who knows what new ideas you will get for your brand, marketing, or next season, from the other vendors at the show. While this is especially true for fabric and other raw materials-based shows, there is plenty to look at all under one roof in the other shows as well. Many tradeshows today often provide educational components on trendforecasting, fashion innovation, and technology as well that can be highly informative.
Despite these other perks, the real objective remains, however, the connection of buyers and sellers – and the tremendous amount of value this has for merchants. If you find that your brand is not reaping the amount of sales needed to cover the costs, it may be worth re-thinking if attending tradeshows are indeed relevant for your brand.